Jewelry
I sell jewelry, vases, and paintings locally in the Portland, Oregon area. Jewelry and small paintings are also available in my Etsy shop.
About the jewelry
Acrylic skin jewelry repurposes run off paint from pour paintings into something beautiful, unique, sustainable, and wearable. I offer a variety of different pendant styles and earrings.
How to purchase
All jewelry is available both online and locally.
Take a look at the offerings below, and contact me at art@artwithwill.com if you are interested or have any questions.
Jewelry offered is subject to change and not guaranteed to still be available.
Offerings last updated: 5 June 2021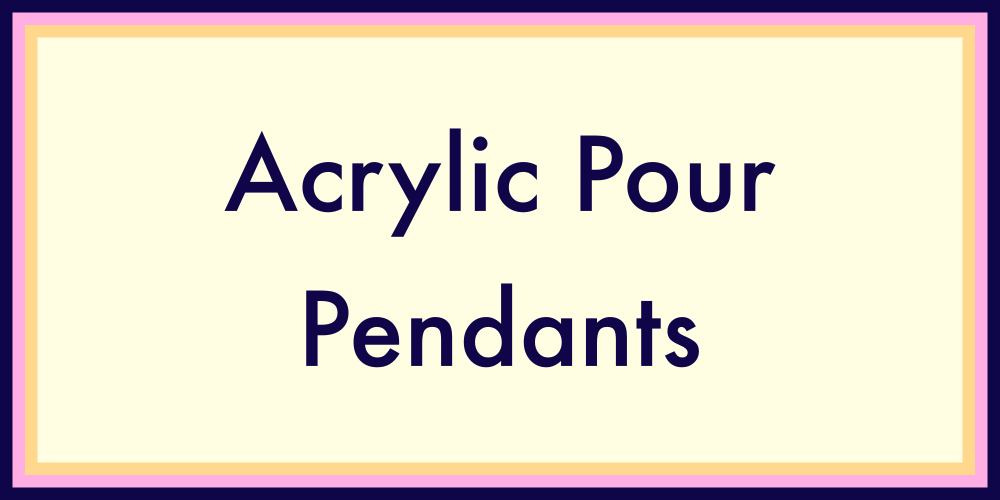 Round Pendant
Acrylic skin jewelry
1" diameter
With 18" necklace cord: $21
Without necklace cord: $19

Round Pendant
Acrylic skin jewelry
1" diameter
With 18" necklace cord: $21
Without necklace cord: $19

Square Pendant
Acrylic skin jewelry
1.25" diameter
With 18" necklace cord: $21
Without necklace cord: $19

Rectangle Pendant
Acrylic skin jewelry
2" x 0.5"
With 18" necklace cord: $21
Without necklace cord: $19

Large Pendant
Acrylic skin jewelry
2" diameter
Without necklace cord: $23


Round Pendant
Acrylic skin jewelry
1" diameter
With 18" necklace cord: $21
Without necklace cord: $19

Tree Pendant
Acrylic skin jewelry
1.25" diameter
With 18" necklace cord: $21
Without necklace cord: $19

Round Pendant
Acrylic skin jewelry
1" diameter
With 18" necklace cord: $21
Without necklace cord: $19

Round Pendant
Acrylic skin jewelry
1" diameter
With 18" necklace cord: $21
Without necklace cord: $19

Round Pendant
Acrylic skin jewelry
1" diameter
With 18" necklace cord: $21
Without necklace cord: $19

Large Pendant
Acrylic skin jewelry
2" diameter
Without necklace cord: $23


Large Pendant
Acrylic skin jewelry
2" diameter
Without necklace cord: $23


Round Pendant
Acrylic skin jewelry
1" diameter
With 18" necklace cord: $21
Without necklace cord: $19

Rectangle Pendant
Acrylic skin jewelry
2" x 0.5"
With 18" necklace cord: $21
Without necklace cord: $19

Rectangle Pendant
Acrylic skin jewelry
2" x 0.5"
With 18" necklace cord: $21
Without necklace cord: $19

Large Pendant
Acrylic skin jewelry
2" diameter
Without necklace cord: $23


Key Pendant
Acrylic skin jewelry
3" x 1"
With 18" necklace cord: $21
Without necklace cord: $19

Round Pendant
Acrylic skin jewelry
1" diameter
With 18" necklace cord: $21
Without necklace cord: $19

Square Pendant
Acrylic skin jewelry
1.25" diameter
With 18" necklace cord: $21
Without necklace cord: $19

Tree Pendant
Acrylic skin jewelry
1.25" diameter
With 18" necklace cord: $21
Without necklace cord: $19

Round Pendant
Acrylic skin jewelry
1" diameter
With 18" necklace cord: $21
Without necklace cord: $19

Round Pendant
Acrylic skin jewelry
1" diameter
With 18" necklace cord: $21
Without necklace cord: $19

Rectangle Pendant
Acrylic skin jewelry
2" x 0.5"
With 18" necklace cord: $21
Without necklace cord: $19

Round Pendant
Acrylic skin jewelry
1" diameter
With 18" necklace cord: $21
Without necklace cord: $19

Large Pendant
Acrylic skin jewelry
2" diameter
Without necklace cord: $23


Round Pendant
Acrylic skin jewelry
1" diameter
With 18" necklace cord: $21
Without necklace cord: $19

Key Pendant
Acrylic skin jewelry
3" x 1"
With 18" necklace cord: $21
Without necklace cord: $19

Round Pendant
Acrylic skin jewelry
1" diameter
With 18" necklace cord: $21
Without necklace cord: $19

Tree Pendant
Acrylic skin jewelry
1.25" diameter
With 18" necklace cord: $21
Without necklace cord: $19

Rectangle Pendant
Acrylic skin jewelry
2" x 0.5"
With 18" necklace cord: $21
Without necklace cord: $19

Round Pendant
Acrylic skin jewelry
1" diameter
With 18" necklace cord: $21
Without necklace cord: $19

Key Pendant
Acrylic skin jewelry
3" x 1"
With 18" necklace cord: $21
Without necklace cord: $19